By Powerscourt on 16/03/2020
Powerscourt Coronavirus Briefing – 16 March 2020
ANALYSIS
There has been a steady stream of businesses and organisations rising to the global coronavirus challenge. These range from the re-purposing of supply chains to small gestures of community solidarity.
LVMH has announced that it will manufacture disinfectant gel using the production lines of its perfume and cosmetics gels from today. The gels will be delivered free of charge to health authorities in Paris.
After promising earlier this month to provide 500,000 test kits and one million masks, Alibaba chief executive Jack Ma has confirmed that the first batch has been loaded on to planes to be delivered to the US.
An Iceland store in Northern Ireland will open its doors exclusively to the elderly for one hour tomorrow morning so they can make purchases with a reduced risk of infection.
In the Republic of Ireland, employees of AIB with dependants whose partners are healthcare professionals will be able to step away from their day jobs on full pay to mind children while their partners care for patients.
We anticipate that businesses with suitable skills and supply chains will answer calls from authorities for more ventilators and other equipment required to combat Covid-19.
More generally expect to see more and more businesses consider how they can make a contribution. These will likely range from changing employment practices to adapting supply chains to providing special assistance to vulnerable groups.
In recent years we have seen ESG rise to the top of the global corporate agenda. The coronavirus pandemic may be first big test of how the values of business have evolved.
CORONAVIRUS PUBLIC SENTIMENT POLLING
Powerscourt will be conducting a regular poll to track how the UK population views the Government's handling of the coronavirus pandemic. The first wave of research was conducted over the weekend among a sample of 1,220 adults. Forty per cent of respondents think the Government has got it about right while 32 per cent think it has not gone far enough.
The next poll is being conducted today and results will be shared on Wednesday. If there is a question you would like to add to the survey, please contact Powerscourt's Head of Insight Anna McAvoy – anna.mcavoy@powerscourt-group.com. There is no charge but only one or two questions can be accommodated in each wave and the results will be published.
DO YOU THINK THE UK GOVERNMENT'S APPROACH TO THE CORONAVIRUS OF CONTAINMENT, DELAY, RESEARCH AND MITIGATE IS…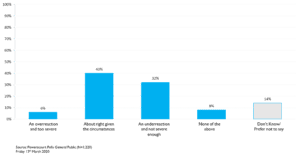 WHAT ARE COMPANIES SAYING?
Travel and Leisure
EasyJet
The airline reported this morning that it has undertaken "further significant cancellations." In a statement it said that these would be likely to continue on a rolling basis for the foreseeable future and could result in the grounding of the majority of the fleet. They also highlighted their balance sheet in their statement, pointing to strong cash balance and debt facilities.
IAG
The British Airway's owner said that Willie Walsh, the outgoing CEO, would defer his retirement in light of "exceptional circumstances facing the industry. They also said that they would be cutting flying capacity by 75 per cent in April and May. They have said accurate guidance for FY2020 profit is not possible now but pointed to their strong liquidity and cash position.
Wizz Air
The FTSE 250-listed budget airline has warned that the travel ban imposed by the Polish government affects 20 per cent of Wizz Air's capacity, suspending all flights to and from Poland. The airline also highlighted its own strong balance sheet and pointed to an additional update ahead of the full year close period starting on 1 April 2020.
Carnival
In addition to the 60-day temporary pause in cruise operations at Princess Cruises, Carnival has today announced that it will pause operations at four more of its North American cruise line brands for one month. Each brand is to communicate directly will customers regarding the specific details of any cancellations.
Consumer and Retail
ABF
The Primark owner announced in a trading update that 20% of their stores are now closed following government measures in France, Spain, Austria and Italy. These stores currently generate 30% of Primark sales, and the company noted that it had expected £190m of sales from those stores in the next four weeks. Their remaining stores, including the UK, have seen like-for-like sales declines over the last two weeks. The company also noted a strong balance sheet and substantial cash liquidity.
Kingfisher
The DIY retailer, which owns B&Q and Screwfix in the UK, has warned of significant uncertainty on sales and demand in a substantial update to the market. The business has closed all stores in both France (221) and Spain (28) until 14 April. All other stores remain open. Once again, the company pointed to its cash position and debt facilities offering "significant headroom" and said that Chinese supply was returning to normal levels.
Flutter
The gambling company responded in a statement to multiple major sporting fixture cancellations. The company, which highlighted that it generated 78% of its revenues came through bets placed on sporting events. They guided that assuming restrictions remain in place until the end of August, EBITDA for the group would be reduced by approximately £90-110m.
LVMH
The French luxury goods group and owner of Louis Vuitton has announced that it will manufacture disinfectant gel using the productions lines of its perfume and cosmetics gels from Monday. In a statement, the company said that these gels will be delivered "free of charge to the health authorities".
Industrials
Saudi Aramco
The newly listed Saudi Arabian Oil giant announced its full year results this morning, with COVID-19 only receiving a brief mention in the quote from the CEO. He advised that agility and adaptability were core to the company's strategy, and that Saudi Aramco has already taken steps to rationalise planned capital spending for 2020.
Kazatomprom
The world's largest producer of Uranium said in a statement that as yet "the pandemic has had no impact on the Company's uranium mining or processing operations." However, it warned that there were significant potential risks due to the close quarters within which the employees live and work at the sites of the mines.
Financials and Real Estate
Unite Group
In response to statement from a number of UK universities confirming that face-to-face teaching has been suspended, the student accommodation provider confirmed that it had seen no noticeable impact to date on sales performance. They pointed to reservations remaining in line with the same period last year, with the same applying to enquiries from and sales to foreign students.
Old Mutual
The investment, insurance and banking group said in its full year results that it had established a special committee to manage employee safety across all its offices, and that it had placed restrictions on cross border business and personal travel to ensure risk is limited. The statement said that they have "stress tests" to ensure that they remain sufficiently capitalised and with appropriate liquidity to manage these scenarios.
Countrywide
The property group announced this morning that LSL property services has confirmed that it no longer intends to make an offer for Countrywide. In a short statement, the company said that it was too early to assess the impact of coronavirus on their business, and no link has been made between the virus and the scrapping of the planned deal.
TMT
Alibaba
Jack Ma, the Chinese billionaire and co-founder of Alibaba, has sent the first shipment of surgical masks and coronavirus test kits to the US. After promising earlier this month to provide 500k test kits and one million masks, Mr Ma tweeted that the first batch had been loaded on to planes to be delivered to the US. He has already delivered 500k masks to Belgium on Friday.
Westminster Group
The supplier of managed services and security solutions said in an update that it had only suffered "minor disruption" so far to travel and activities within its business. They also provide screening equipment and fever detection, and have generated an additional $720,000 dollars of sales from that part of their business so far in 2020.
Inspiration Healthcare Group
The medical tech provider reports that it has received a £1.25m order from the NHS for the immediate supply of ventilators. The company, with a market cap of £24m, saw its shares rise 32% today on announcing the "single largest order it has ever received".
Time Out Group
The global media and entertainment company said in a statement that it had not seen any material impact to trading to date, however they have in the last few days seen some reduction in footfall to the Time Out Markets and delays to some advertising campaigns. They advised that it was not possible to provide full year guidance given the level of uncertainty in the market.
IN THE NEWS
Coronavirus: Downing Street to give daily TV briefings on outbreak – BBC News
European stocks plunge despite aggressive Fed intervention – Financial Times