By Powerscourt on 14/07/2022
Powerscourt participates in diversity drive for PR industry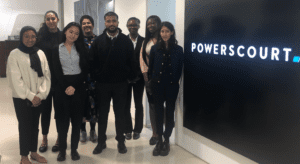 Powerscourt has seen continued growth over the past year and this has been particularly noticeable with our recruitment. Fourteen new colleagues have joined us over the past five months and we are always on the look-out for great talent.
As part of our Diversity and Inclusion initiative, we were delighted to host a masterclass in our offices last month to encourage young people from Black, Asian and minority ethnic backgrounds to pursue a career in Public Relations and Communications.
Working with the Taylor Bennett Foundation, a charity seeking to address the need for greater diversity in the Public Relations industry, we hosted eight trainees who are on the Taylor Bennett PR Training Programme. The session featured presentations by Powerscourt partners and team heads and included discussions on key areas of PR such as media relations, digital and financial PR. It was followed by a meet-up with Powerscourt's Analysts who shared their experiences of joining the industry and working for Powerscourt, and a presentation of the Powerscourt Graduate Programme.
Diversity and inclusion are of central importance to our industry. As a fast-growing agency committed to promoting our values in the work that we do, we are proud to play our part in building a thriving, inclusive and diverse industry.